This is my creative portfolio. It shows how I use pencils, brushes  and my fountain pen for drawing, painting and writing. My book contains  in 24 full colour artwork and 13 short stories/texts. Preview possible:  use the link to see several pages.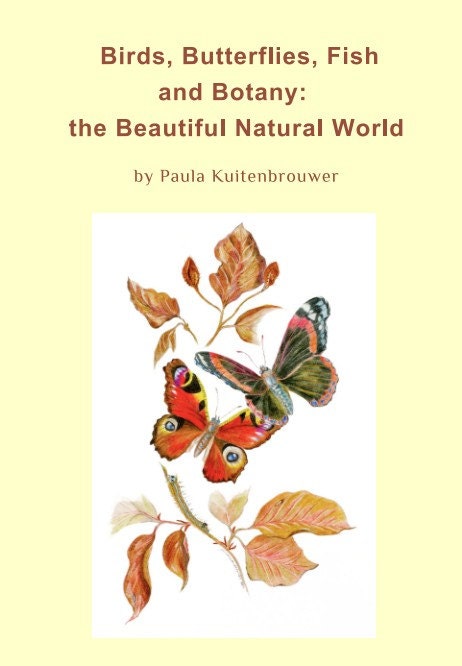 About the Book
Paula Kuitenbrouwer holds an M.A. in Philosophy and she paints the  beauty of the natural world. 'Birds, Butterflies, Fish and Botany; the  Beautiful Natural World' shows a selection of Paula's artwork with  engaging and illustrative short stories. Paula's work helps you to see  the natural world in depth and in its finest detail. Reading this book  is like visiting Paula's studio in which she guides you through many  aspects of her work. Paula narrates her nature meditations and  observations or explains the symbolic composition of her drawings.  Creatively she shows you nature's remarkable intelligence. After reading  this lively book, you feel enchanted and engaged as if following a  visit to an art gallery. For Paula, painting and writing is a  meditation; nature is her muse, her spiritual and artistic inspiration.  'Birds, Butterflies, Fish and Botany; the Beautiful Natural World'  contains about 13 pieces of enjoyable texts and 24 highly detailed and  full-colour artwork.
Paula works at www.mindfuldrawing.com and currently lives with her husband and daughter in Ireland.